"I am tremendously distressed and disappointed by United Airlines. Over the several rounds of back and forth communications with them, I can now see clearly how unreasonable this airline is!" said Mr. Liu, a Chinese passenger who got insulted by UA staffs. He was still indignant when recounting the incident to People's Daily Online reporter.
Here is what happened.
Flight overbooked
On December 22nd, last year, Mr. Liu was departing from New York to Beijing for a business meeting. On his way to the airport, Mr. Liu got stuck in traffic for a while, so when he arrived and was waiting in line for his boarding pass, he took a look at his watch. It showed that there was still 80 minutes left before the departure time.
A UA staff whose nametag showed Tanya Cidade approached the line and was shouting "Beijing, Beijing". She then took Mr. Liu's passport to one of the check-in counters, taped something into the computer, and made a phone call. She then passed his passport to another staff called Ms. Amy Lin and left. During this whole period of time, Ms. Cidade didn't say a word to Mr. Liu.
But Ms. Lin was helping two other passengers. She had Mr. Liu waited for more than 10 minutes. Then, she turned around and told him he could only depart the next day.
"Why?" Mr. Liu asked.
"The flight was overbooked and was full," was the answer. Ms. Lin said she could provide no more assistance as her supervisor Ms. Cidade had already placed him onto the next day.
Threaten to arrest passenger
Mr. Liu of course found this sudden change baffling and pressed for explanation. It was at that moment when Ms. Cidade came back to the counter and, handing Mr. Liu a boarding pass for the next day's departure, said, "This is for tomorrow. Take it and go away right now. If not I will cancel your ticket. And you are welcome to take whatever flight you want."
She even threatened Mr. Liu by saying if he does not leave now, she will call the cops and have him arrested.
Ms. Lin, who'd been watching the whole episode at the side, did not offer any assistance but immediately made defend herself. She said, "I was only translating for you guys. This is none of my business. She gave your passport to me, but I had no idea what was going on."
"But you have just said the flight is oversold. Why on earth is her attitude so bad?" Mr. Liu demanded.
"I did not say this," Ms. Lin said. "I never said anything like that!"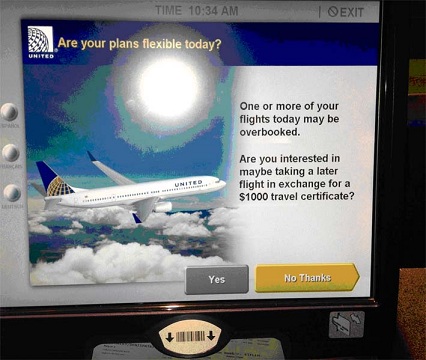 Screen on the check-in desk showed Mr. Liu's flight may be overbooked.
But later other UA staffs did tell Mr. Liu that the flight was indeed oversold, as it was during the peak season. And on the self-service boarding pass monitor, it also showed clearly that the flight was overbooked, stating that if the passenger was interested in taking a later flight, the passenger could have a US$1,000 travel certificate.
Boarding pass torn
What's even more ridiculous was that Ms. Cidade, the UA staff with poor manner, appropriated his belongings by force. She snatched from behind the boarding pass in his hand while Mr. Liu was still debating with Ms. Lin, and tore it into pieces. Her threatening behavior and conduct made Mr. Liu call the police. He also filed a complaint to a person who claimed he is a UA staff member.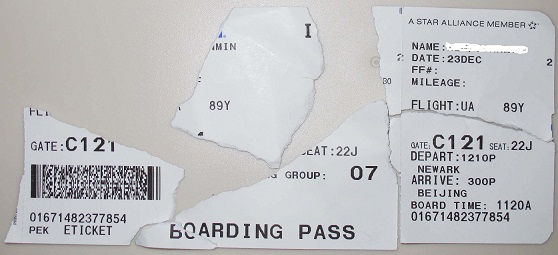 The boarding pass tore by Ms. Cidade.
But he never got back to Mr. Liu.
Complaint got empty reply
So Mr. Liu decided to write a complaint letter. He mailed it to the headquarter of UA, together with some photographs he took at the airport that day as evidence. Weeks later, he finally received a reply from the airline.
This is the verdict: That Mr. Liu was banned from boarding was due to the reason of his being late. It has nothing to do with oversold. In terms of a UA staff tore his boarding pass, the letter stated that "United considers all disciplinary measures between employee and manager to be confidential."
Mr. Liu, not giving up, persisted to write another complaint letter. This time, he further pressed for an explanation: If he were impacted by being late, then why did the UA staffs told him at the airport that it was due to oversold? Why wouldn't Ms. Cidade inform him directly but instead, she approached Mr. Liu and took his passport to the counter? How come Mr. Liu was forced to wait aside at the counter for at least 10 minutes before informing by Ms. Lin that he couldn't board the plane?
But to Mr. Liu's disappointment, UA's reply this time was identical to the one last time. No apology made. Only a letter of PR language.
Precedents of bullying Chinese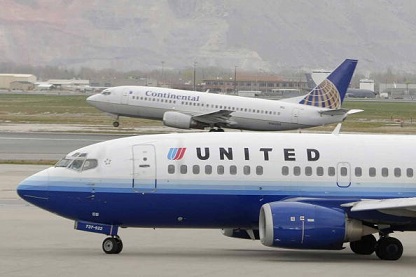 United Airlines have many precedents of bullying Chinese passengers.
People's Daily Online reporters did a research about the service ratings of UA. We found that the airline's services and staffs' attitudes are extremely poor. And their manner is worst when dealing with Chinese passengers, who are usually timid and reticent when outside of China. A Chinese couple once had an argument with a crew member, and they were both expelled from the plane. An attorney advised that Chinese passengers must not be intimidated under such circumstances. When encountered any unjustifiable or unreasonable matters, Chinese people must voice out and stand firm. Do not be daunted when UA staffs like Ms. Cidade threaten to call the cops.
Of course, Chinese passengers may choose not to consider UA. This probably is the best solution
(责编:美国频道、任建民)